NOTE: Click HOEDOWNER for the latest issue of the newsletter, TUNE for the latest Tune of the Month, or tune archive for an earlier tune.
UPCOMING EVENTS 2019-2020
Mar 21: OREGON STATE FIDDLE CONTEST - Chemeketa Community College, 4000 Lancaster Dr NE, Salem, OR. Click contest for more info.
Mar 27-28: BROOKINGS JAMBOREE at the Chetco Grange in Brookings. Click info for more details
Apr 30-May 03: SILVER LAKE CAMPOUT - Silver Lake Rural Fire Protection District, 4th St, Silver Lake, OR
May 21-23: OOTFA SPRING CONVENTION, MEMBERSHIP & BOARD MEETING - Douglas County Fairgrounds (Stage), 2110 Frear St, Roseburg, OR
Jun 18-20: HIGH DESERT FIDDLE JAMBOREE - Harney County Fairgrounds, Burns OR
Jun 22-27: NATIONAL FIDDLE CONTEST in Weiser ID--OREGON HOSTS! Click perks for our benefits as host or host duties for our responsibilities as host
Jul 20-23: WEST CASCADES FIDDLE CAMP, Emerald Christian Academy, Pleasant Hill OR. Check fiddlecamp.org for more details
Jul 31: WILLAMETTE VALLEY FIDDLE CONTEST at the Benton County Fairgrounds in Corvallis
Aug 13-16: WINCHESTER BAY CAMPOUT at the Winchester Bay Community Center. Click poster for more info.
Sep 17-19: CENTRAL OREGON COUNTRY MUSIC GATHERING (COCMG) - Crook County Fairgrounds, Prineville OR
Check the OOTFA Event Calendar for other events of interest. Use the "agenda" view for best results.


Read the latest Hoedowner for additional state and district info.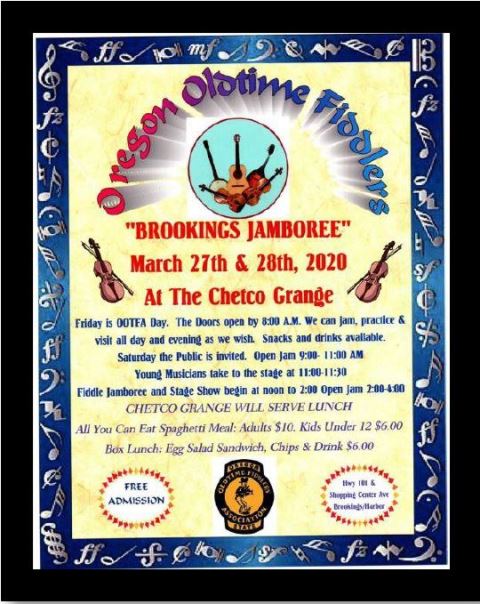 Guide to the Menu Bar Tabs at the Top
The About Us tab provides information about our association and its history.


The OOTFA Event Calendar tab provides time and place information for OOTFA events as well as related oldtime festivals. The OOTFA board meets quarterly at various locations around the state. Each meeting includes jamming, workshops, dinner and a performance. Other events are the OOTFA State Convention held at the Polk County Fairgrounds in Rickreall each April, the Oregon Fiddle Contests held each March at Chemeketa Community College in Salem, and the Willamette Valley Fiddle Contest held each August at the Benton County Fairgrounds.


The Contact OOTFA tab provides postal addresses, phone numbers, and email addresses for each of the state officers. To contact your district officers, refer to the current issue of The Hoedowner. At the top of each district's news entry is a list of district officers along with their postal addresses, phone numbers, and email addresses.


Lew Holt's Posts tab will give you access to Lew's news and views of current and past activities in our organization. Lew is a past president of OOTFA and editor emeritus of The Hoedowner, our monthly newsletter.


The Hoedowner Archive tab provides access to all issues of our monthly newsletter. The Current Issue gives you up-to-date info on what's happening at the state level and in the various districts of Oregon Oldtime Fiddlers. It also includes contact information for the various state and district officers.


The Join OOTFA tab will tell you more about our organization and how you can join us.


The Donate to OOTFA tab will provide information on how you can support our organization.


The OOTFA Forms tab provides access to various OOTFA nomination, request, order, and application forms.


The OOTFA on Facebook tab will take you to our Facebook page where you can see various tidbits about past and present OOTFA activities including many photos


The OOTFA Districts tab lists the ten OOTFA districts along with links to their websites when they exist. For districts without websites, the link leads to the current issue of The Hoedowner. You can scroll down through The Hoedowner to your district's news section and catch up on the previous month's activities and those planned for the next month


The Fiddle Contest tab displays a web page describing Fiddle contests in general, as well as three fiddle contests of particular interest to our members
Contact Us
Website Administrator: Dave Basden, Basden.David@gmail.com

OOTFA Calendar Administrator: Melinda Grant, dusty.stringz@gmail.com